Having trouble keeping passengers entertained during a road trip? Car-Fi offers high-quality entertainment options so you can turn that "are we there yet?" into serene and calming silence. We offer headrest monitors and overhead monitors of many varieties so you can choose the option that best suits your needs.
Headrest Monitors
Do you want to keep passengers entertained, but also keep the look of your vehicles' interior intact? Car-Fi offers headrest monitors that install directly into the back of you vehicle's headrests so you don't have to worry about any loose wires or additional attachments. The monitors are available in sizes up to 9 inches and come with many convenient features for the viewers. They come with wireless IR transmitters that send sound straight to users wireless headphones. This way the people up front don't have to listen to what the others are watching, but if others want to listen as well there is also an option to send the audio through the vehicle's speakers so everyone can enjoy.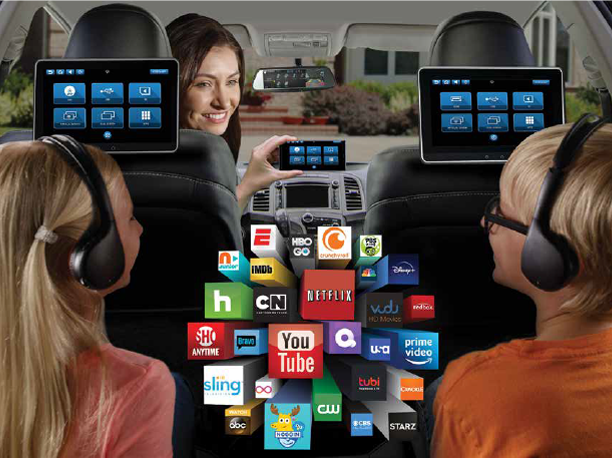 If you're looking for a more temporary entertainment method we also offer detachable headrest monitors. This way you can entertain your passengers without completely modifying the back of your headrest. These monitors come in sizes up to 9 inches and freely strap onto the back of your headrest without any hassle, and they come with a multitude of streaming options. They offer built-in Wi-Fi as well as HDMI, USB, and Micro SD charging ports so you can connect with any device.
No more fiddling with small buttons you can barely see! Most of the monitors we offer come with touch screen controls and the monitors also come with an app that lets you control it from anywhere in the vehicle, so now you won't have people climbing over each other to un-pause or playback.
Overhead Monitors
Are you carrying a big audience? Worried about having too many eyes for only a few screens? Car-Fi has just the thing! Overhead monitors are exactly what they sound like, monitors that hang down so that all of your back seat passengers can enjoy the show! You don't have to worry about any wires or straps with this these monitors. All components are hidden so it looks like your vehicle came directly out of the factory with the monitor installed. They also come with DVD receivers, USB, and HDMI Inputs for unlimited entertainment options. You can connect gaming devices, phones, and tablets with these features. You're passengers will be so entertained you'll wish you were sitting in the back.